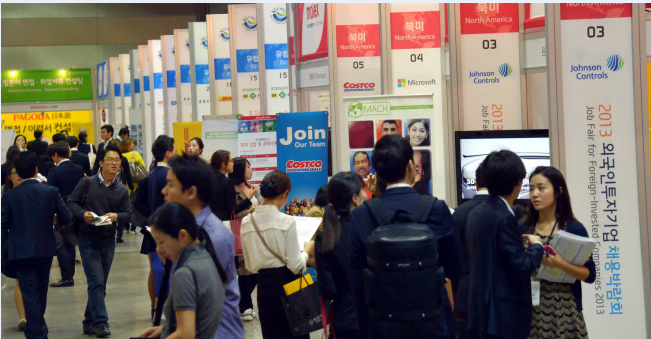 After completing your studies in South Korea and graduation from its universities, you need to change the status of your D-2 study visa in order to stay there and be able to apply for a job. Here is the process to change your visa status to be able to work in Korea.
For more information, read the topic of obtaining a study visa in South Korea.
How to change a student visa to a work visa in Korea: Change the visa status to D-10
A request to change the visa status from D-2 (Study Visa) toD-10 (Job Seeker Visa) is required if you are among the following:
Those who wish to establish or join a company/organization within South Korea.
Those who wish to participate in training at the short-term level before officially start work.
Wish to participate in support courses on the OASIS immigration system.
Wish to participate in activities related to intellectual property rights, such as patents and the like.
Documents required to change visa status to D-10 after graduation from South Korean universities
Students holding a D-2 visa and wish to change the visa status to D-10 after graduating from Korean universities must have the below:
Application Form (Form No. 34).
Passport.
Accurate Plan showing their activity in the job search.
A copy of the education certificate in South Korea. You will be exempted from providing such documents if they can be verified through the immigration data system.
Application fee.
How do you apply for a D-10 visa after graduation from South Korean universities?
Basically, you can apply to change the visa status from a D-2 student to a D-10 jobseeker by heading to the nearest immigration office of the Ministry of Justice in your area of ​​residence in South Korea.
Part-time work in Korea for students
It is suitable for students in the pre-graduation stage because the student can work and study at the same time. Indeed, this provides the student with some money for living in Korea during his/her studies, besides a valuable experience.
Follow up the topic of studying and living costs in South Korea.
Moreover, you may be interested in knowing how to get student accommodation in South Korea.
As a matter of fact, universities in South Korea regularly participate in job fairs. You can follow the latest news of job fairs offered by your Korean university. You can also follow the link for job fairs sponsored by the Korean government Employment fairs in South Korea.
Full-time Graduate Work in South Korea
Indeed – and as mentioned above – this type of work is very suitable for the graduates from foreign students after completing the procedures for obtaining a jobseeker D-10 visa after graduation.
Besides, to find out the latest jobs advertised for international students in South Korea, you can visit this link.
This link is provided by the Korean government to students from all over the world. It's related to any advice, inquiries about study, scholarships and all that a student may need to know during his stay in South Korea.
Inquiries are not limited to students in Korea, but also related to those outside of South Korea who are thinking of studying there.
Furthermore, you can communicate with them in English (thereare several languages ​​to communicate with, including French, Russian andChinese) throughout the week during the work hours on Saturday and Sunday aswell as on public holidays.
Korean employment market and further information
With a steady growth of the South Korean economy, unemployment rate is lower. And the Korean government supports graduates staying and securing a job in the country. The only challenge would be the competition against nationals, especially if you don't have a good command of the Korean language. 
The total working hours in Korea are 52 hours per week, comprised of 40 normal hours and 12 hours overtime. You have the right to 10-16 days public holidays and paid annual leave that increases for each additional year you work for the same company. 
Moreover, it's also important to keep in mind that workers in Korea have to pay an income tax, which ranges from 8% to 35%. Alongside tax, you have to subscribe to a health insurance and pension insurance.
Links that may interest you
To inquire about studying in South Korea: That you can contact by clicking on the "Write" icon in the lower right.
Moreover, this link is to follow the latest notifications and news about international students.
Links to help you find work in South Korea
To search for jobs
You may have some hesitation about studying abroad in general, and you want to see experiences from students like you who have previously studied there.
This indeed allows you to have a vision on all relevant respects. Besides, it will encourage you to make the right decision.
At last, for more details about the experiences of foreignstudents in Korea, follow this article: