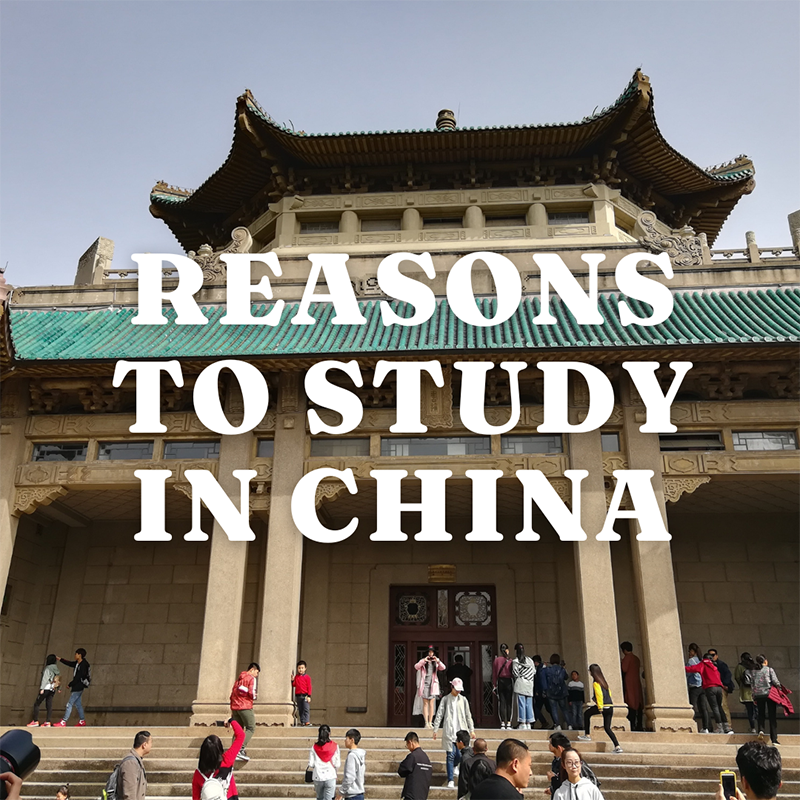 Studying in China is a great choice for students looking to study abroad. Especially after the huge development that China has now in all fields, making the country an important destination for many students.
In today's coverage, we'd be talking on some of the reasons why study in China and travelling over there has become a favorite destination for many international students from all over the world. Ready? Set!
Learning Mandarin
Did you know that learning a new language is one of the most important activities that students enjoy doing? Not to mention, you on a daily basis would need to talk to people there and this will help you pick up Mandarin.
The language is spoken by more than a fifth of the world's population, and studying in China will surely add you learning the language.
The Job Market
The Chinese economy is on growth recently, which indicates that there are many job opportunities almost every day. Also, the Chinese economy is second after the States!
China is also second in terms of exporting products to the rest of the world. Without a doubt, this economic development has gotten China to be known as an important place for foreign students. Ever thought why not get a job after completing studying? Now's your chance!
International universities
One of the things that attract students to a specific country for studies is international universities. Some of the Chinese universities are among the most important universities in the world.
Today, the county is one of the most prominent educational institutions that many students visit every year. Check out our best universities in China here.
Premium costs
When we talk about studying in China, we talk about a journey – one which provides students with study programs at acceptable costs, compared to leading countries in education like the States, Japan, or Europe and UK.
China is a great opportunity for students looking for higher education at affordable costs. Even when it comes to housing and living, there are cities that provide suitable housing at costs that are in line with your budget.
Read more about the most important student cities in China here.
Top student cities in the world
There is a group of Chinese cities known globally as top, prominent student destinations. Not a surprise where student cities in China like Shanghai and Beijing are on the top list.
This is because these cities happen to have world-class universities, and also the cost of living is pretty okay to a student budget.
Discovering the culture
Perhaps the most amazing thing about China is its cultural diversity, as the country's known for a very high population. This goes to say that China has ethnic diversity. Not to mention, a great cultural diversity.
You'd come to discover so many customs and test new things on your trip to study in China. Our advice is to have fun!
An important destination
China's percentage of students to visit annually is increasing, and today the country is one of the most prominent countries to host international students.
The number of international students has doubled dramatically over the last ten years. This is due to the fact that the higher education system in China provides students with a university study that meets all international standards.
Investments for students
China encourages international students to come and continue studying in China! The country works to provide appropriate conditions for students to get their education.
In addition, the country offers scholarships that contribute to attracting international students every year. Such scholarships can cover the academic costs in whole or in part.
The living cost is affordable
Compared to European countries, America and even some Asian countries, living in China is much more reasonable for any international students. For example, to study in Japan, you have to be able to sustain living expenses amounting to 1,800 dollars per month. And South Korea is among the world's five most expensive countries for international students. 
On the other hand, in China, scholarships often include stipend to cover your accommodation fee and some daily expenses in some cases. But even if you pay for your accommodation, it will cost you between $200 and $300 per month without any additional cost for water, gas and electricity. Transportation are also very cheap: 15 cents for a bus ticket and 30 cents for a subway ticket. 
Find out about the studying and living costs in China for international students
The country is safe
China is considered as one of the safest countries in the world. And even large, busy cities like Beijing pride for their low crime rates. Moreover, the laws in China are very strict and Chinese people do not tend to break the law easily. Also, the safety has more to do with Confucianism, which prioritize respect towards elders and the state. And that contributes greatly to the security throughout the country.