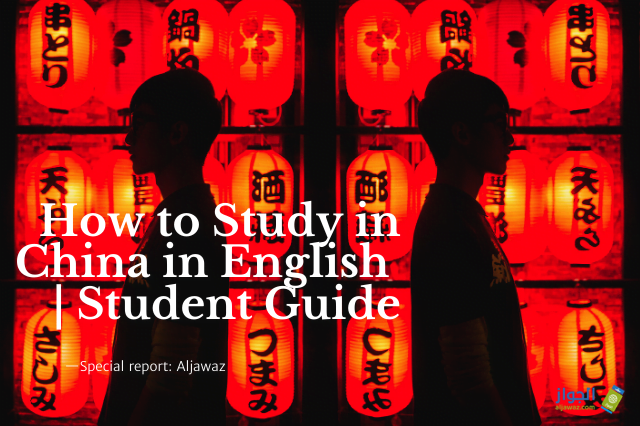 Wondering if you can study in China in English? Then, you've come to the right place to get answers to your questions! With the developments in the Chinese economy, making the country a destination for thousands of students every year. Study in China in English is now possible for all international students.
The language won't be a problem or pose a barrier for students. Even if the Chinese language is somewhat difficult and requires a great time to learn, as the Mandarin language is one of the difficult languages in the world for students who are not accustomed to it.
Difficulty in picking up the language will not constitute an obstacle to your enrollment to study at a private Chinese university.
You can continue your studies in a full university degree program. The English language is the first spoken language in the world, so in China, you'd also find many universities that allow you to study in English.
Study Programs in English in Chinese Universities
Study programs in English have contributed to attracting many students to study in Chinese universities.
You aren't obligated to be a Chinese speaker in order to pursue studies with a bachelor's, master's or doctorate degree. However, you need to obtain a good average in the English proficiency test and can speak well to get into a university as that meets all the requirements for languages
Types of English language courses in China
Generally, these programs in English allow students to study international curricula. Also, students get international academic degrees.
The first type is for international students only. They are taught in classes and separated from Chinese students. In here, students benefit from several specializations in the English language.
The second type of these programs are programs that integrate international students and Chinese students together. This contributes to helping international students to communicate with Chinese students and develop their skills in the Chinese language. Not to mention, it also helps students to adapt more to the Chinese society.
Where can I study in China with the English language?
There are many study programs available to study in English. Students enrolled in specific programs can be confused about the type of appropriate courses, before making a decision.
In here, try to get all the information about the study programs available in the English language and the subjects taught in it.
Here is a glimpse of some of the universities that offer specific university degrees in English.
The University of Nottingham Ningbo China
This university offers a variety of majors in the English language for students who wish to continue studying, whether bachelors, masters or doctorate degrees.
Similarly, click here to learn more about it.
Shanghai Jiao Tong University
This university is one of the best research universities in China and in the world. In the university, there are many specializations in the English language, among these majors is science and everything related.
Similarly, click here to learn more about it.
Fudan University
Fudan University is one of the important universities in China and one of the well-known universities for international students.
The university provides several majors in English.
Similarly, click here to learn more about it.
Guangxi Normal University (Guilin)
This university welcomes thousands of students every year. Also, giving students the opportunity to study in English according to academic standards at the highest levels.
Similarly, click here to learn more about it.
SiChuan University (Chengdu)
This university represents a very suitable option for international students who wish to achieve a distinguished university and study a variety of specializations available in English.
Similarly, click here to learn more about it.
Peking University
Peking University is one of the important universities in China and also the best universities around the world. The University is a great option for you as an international student.
There isn't a doubt that the university has people studying in English from across the globe.
Similarly, click here to learn more about it.
Best cities for English-speaking international students in China
Since the number of foreign students in China is growing exponentially, major cities in the country has a wide choice of institutions where they can get English-taught classes. And the good news is that in these larger cities, you won't have any trouble finding local and international students with whom you can communicate in English. 
Find also the best cities in China to study
Beijing
One of the student cities but also the best city in China to study economics, politics, medicine, business in English. Actually, Beijing has the most prominent institutions offering English-taught study programs to international students. For example, the University of International Business and Economics is among the best universities to study economics but also the only university to teach International Politics programs in English. 
Shanghai
Shanghai is the cradle of modernity in China, hosting the first university in the country to welcome international students: Fudan University. You won't have any trouble finding university programs in English, lest find other people to communicate with in English. Another institution, Shanghai Jiao Tong University, is a renowned research center which welcomes a massive population of international students. 
Hong Kong
Of course, it is impossible to put aside this popular city in China if you are looking for a place to study in English. The country hosts not less than 12 institutions offering English study degrees. Hong Kong also offers the opportunity to study a bachelor in English in China, mostly in Education and Language studies. 
Apart from these three, cities like Hangzhou offer opportunity to international students to study medicine or TCM in English in China.
Finally, check out our other articles about the types of scholarships in China and how to get a study visa in China.