UK is one of the most preferred destinations for international students who want to study abroad. This is due to the fact that it contains the best universities and modern infrastructures, as well as high-level teaching stuff. On the other hand, the visa application for UK is one of the most strict and rigorous processes, which induces that many visa applications for study in Britain are being rejected. In this article you find out the main reasons for UK student visa rejection.
Find out how to apply for a UK student visa
UK consulates receive thousands of visa applications each year around the world that do not meet visa requirements and are therefore rejected. It is thus your responsibility to ensure that you are eligible and to meet the requirements as well as to submit the necessary documentation, in order to avoid a visa rejection for study in the UK.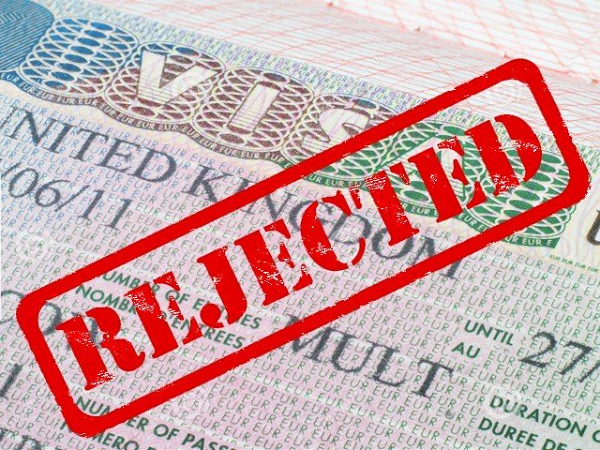 Often, students wishing to study abroad cannot fulfill their dream because a UK student visa is rejected at an early stage for many reasons. In this article, we will talk about the most common reasons for UK visa rejection for students.
Without more delay, let's start…
Top 5 reasons for the UK student visa rejection
1) Inaccurate information about the student
The most important document for students applying for a student visa in the UK is the UK Student Visa Application Form. Often, candidates provide inaccurate information that becomes a reason for the rejection of a UK student visa.
The visa application form can be a complex document for thefirst time. Candidates may be tempted to misinterpret questions. Consequently,the probability of making mistakes is very high and should be avoided in allcircumstances.
2) Lack of academic achievements
Candidates seeking to apply to study in Britain must demonstrate their academic achievements in order to meet the exceptional academic standards of higher education in Britain.
Often, students cannot meet these criteria, which leads to the rejection of the student visa. It's the case if the administration feels that the student will not be able to deal with their education system or that the student may face the English language barrier in the country.
Here are 5 tips for passing the IELTS test in English
3) Insufficient bank balance
Candidates traveling to Britain must be able to pay tuition fees, living costs and all other necessary expenses during their stay in the country. In accordance to law, a candidate will be asked to show that he/she has funds to cover his / her school and living expenses for the entire duration of the course, and the funds must be backdated to at least 28 days in the bank account.
Often, candidates underestimate these complex details, and they don't take them seriously, leading to the rejection of the student visa.
Read more about tuition and living costs in Britain
4) Insufficient documentation
Often, candidates underestimate the importance of the supporting documents. Along with the visa application form, candidates need to submit supporting documents to make their application eligible.
Candidates should be very careful and should submit all documents required by the agency and to certify them if necessary. Documents must be in English and in accordance with international standards.
5) Lack of interview skills
The UK student visa interview phase is crucial and is a critical factor in accepting your student visa application. During interviews be careful at :
Expressing confidence and attractiveness
Preparing for the interview and avoiding hesitant answers
Preparing all information and be aware of all the details related to the country, city, university, and specialization they want to study
Reapply for a UK student visa after refusal
In case your visa application is rejected, you can choose to re-apply for the visa. When re-submitting a UK visa application, you must be very careful to ensure that the form is correctly filled. Make sure to provide all relevant information, in order to avoid rejection of the visa application once again.
How long does it take to apply for a UK visa after itsrejection?
There is no time frame for re-applying for a UK visa after its rejection. Thus, one does not need to wait for any specific time period before re-applying for a UK visa after its rejection.
Perhaps, one can apply for a UK visa as soon as possible,especially if the reasons for refusal are illogical.
How to successfully apply for a UK student visa after its rejection?
You should not submit an improper request repeatedly. Therefore, there is no need to waste much time, money as well as effort in doing so. What is required is a good understanding of the UK visa application requirements, also to submit a well-prepared application that has the potential to convince the competent committees.
Applicants must:
Read the rejection letter carefully.
Consider the reasons for rejection in the light of the above.
Prepare the application again while avoiding and fixing the reasons for rejection.
What if your UK visa application is rejected many times
Number of allowed applications
There is no legal and administrative limit for resubmissionof applications after rejection in accordance with immigration rules.Therefore, applicants can re-apply as many times as they wish.
You may hear or read that denying multiple visas will result in blacklisting you with a permanent ban from re-applying. Obviously, it's a completely wrong idea. In fact, there is no such thing as a blacklist or permanent ban with regard to immigration rules to study in the UK.
Quite clearly, the applicant cannot get blocked. Furthermore, the rejection and block of an entry permit is primarily due to the applicant's background (such as criminal conviction, reasons related to personal or behavioral background) and not due to the number of times you have applied.
Other options
If your visa application has been rejected many times, then it's probably the time to consider other options such as:
Application for visa to study in another country
There are many countries where you can apply for a student visa, depending on the specialization in which the student wishes to go for.
Complete your study in your country
A second option you have is to study in your country, especially if the level of education is excellent and if the level of specialization in which you wish to complete your study is equivalent to the level of international specialization.
Find a job that can support your resume
You can also look for work that can add value to your resume and give you more chances to find a job that fit your education level.
Finally, visa officials are paying so much attention and investigate all visa applicants. This means that you need to make sure you are well-prepared for the visa interview.
During this short interview, you should be able to explain why you want to study in the UK, what you will study and how this will prepare you to work in your country after you have completed your studies.
You will need to be able to explain why you are applying to the university that has accepted you and how you will pay the school fees, living and other expenses. Be sure to follow the instructions above…
If you follow all these steps and tips, your chance to obtain a UK study visa will be very high.