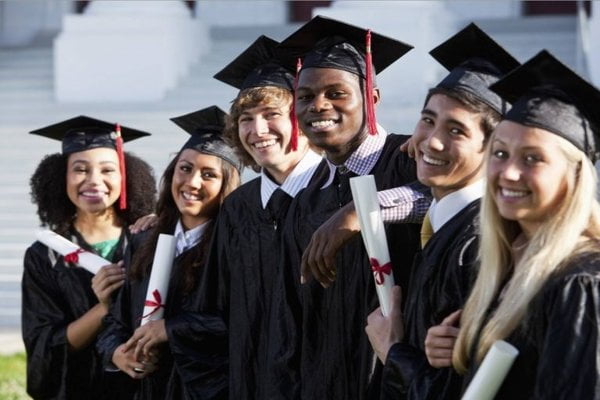 When deciding on whether you want to study your Masters and PhD in Canada, you'll find that the country has many universities that grant the opportunity of studying a great variety of subjects at a Bachelors, Masters or PhD level. Canada also grants you the opportunity of researching and expanding your knowledge in your chosen field.
Learn the top 10 universities in Canada where you can study at undergraduate, masters, and PhD levels.
Masters study in Canada
Requirements to study masters in Canada
As part of the application process, you must include the following:
A filled-in application form (usually sent online)
Proof of proficiency in English or French (depending on the program you're applying to)
Certified copies of your qualification.
Letter of motivation.
If you studied secondary school abroad, you'll have to take an evaluation test to determine the Canadian equivalent of your qualifications and check the validity of the academic qualifications that you have sent. Unfortunately, you'll have to pay fees for your international accreditation assessment if you don't already have a report from another country.
Firstly, your application will be sent to the head office to ensure that you have met the minimum requirements for admission. Subsequently, your application will be sent to your college/university for academic quality assurance which will also determine whether the program you have chosen is ideal for you. If you pass, you will receive a letter of acceptance. You'll then have to apply for a Canadian student visa and scholarship (if applicable) and complete your registration.
How much does masters cost in Canada?
International student fees are reasonable in Canada in comparison to other countries. Most Masters programs will cost anywhere between CAD 13,000 to CAD 20,500 ($9,930 to $16,430).
Learn also about the living and study cost in Canada.
Study PhD in Canada for international students
How to apply for a PhD in Canada
The application process for PhD in Canada will differ from one university to another. That being said, you'll generally have to follow the steps below:
Step one
Firstly, determine the PhD program you would like to apply to. You'll also need to choose your supervisor and the topic of your research project. Some universities will require a letter of support from your supervisor in order to be placed in your student file.
Step two
You'll then apply online, pay the necessary fees and attach the necessary documents. You may also need the following:
Statement of purpose: the letter must state your academic background and work experience. It may also include any awards, publications or relevant experience.
You may also want to discuss your career goals and any other university requirements. We also advise that you stay within the word limit.
Reference letter: two or three letters (one from your supervisor). Your references should be written by academic individuals.
Requirements for PhD admission in Canada
Requirements to study a PhD in Canada will vary with different universities and courses – starting from a masters. That being said, you'll generally need the following:
A Master's degree in a relevant field with high grades and proven research abilities.
Proof of language proficiency (depending on whether you're studying in English or French).
High scores in the Graduate Record Examination (GRE) or Graduate Management Admission Test (GMAT).
In rare cases, you will be able to get a fast track PhD (without a Masters). You'll need to have shown exceptional academic performance (First Class Average) in the last two years of your Bachelors degree. You also need to have showcased your academic abilities through research publications.
Certificates and Documents
Canadian universities may require an official transcript in English or a fully translated.
Writing sample (usually for arts and humanities)
Your resume (CV).
English language test scores (if applicable)
A creative portfolio if you're applying for a PhD in literature/humanities.
Some Canadian universities may require you to attend an interview.
PhD in Canada fees
Fees for a PhD in Canada can be as affordable as CAD 2,500 to CAD 25,000 per year. This depends on the study subject as well as the university offering the PhD program. Fees can also vary depending on the province where you study. Moreover, these fees apply for international students, which is much higher than what local students pay. But it remains less than what you will pay for a PhD in the UK or in the USA. 
Furthermore, a structured PhD program cost can vary from year to year, since taught classes will require more credits to complete. In addition to this cost, students may also need to pay additional costs for student services and student union fees. However, to cover this cost, there are many PhD scholarships you can apply for in Canada. 
Learn here about the different scholarships to study in Canada, including Masters and PhD scholarships.
The final step: the study permit
Once accepted, whether for Masters or PhD study, you need to apply for a permit to study in Canada. The permit will operate as a student visa. We also advise that you get on a health insurance program and check on your university website for orientation.