British education is one of the most innovative education programs worldwide known for its high quality. Technology has played a major role in fulfilling the dream of many students to graduate from one of the UK universities, improving their academic skills as well as increasing their employment opportunities. You can achieve all the above without the need to move away from their families, leave their work or even commit to classical students' life. And this can be possible today through distance learning in UK.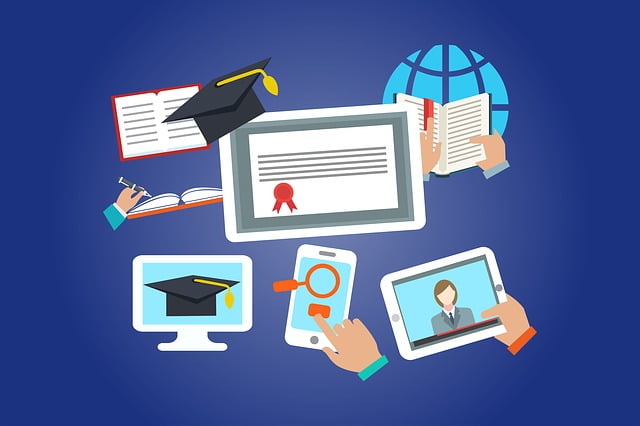 You are here because you are undoubtedly interested in online learning program in UK… Aren't you?
Follow this article to find out the best British universities offering distance learning programs. Remember, this will help you progress in your academic life without the need to leave your home country.
Indeed, these accredited universities offer all types of programs that may interest you to study online in Britain. Offering bachelor's degree, as well as master's and doctoral's degrees.
Best online and distance learning universities and programs in the UK
1. London School for Planning and Management
This university has over 9,000 students and 34 online master's degrees. Despite the fact that the school name indicates its specialization in the field of economics and business administration, the school page is full of various offers present the different certificates in law, medicine and education.
The cost of online study ranges between 1,500 and 5,000 euros per year. The cost depends on the specialization, the set-up as well as the registered degree.
Here you can apply for distance learning programs at the London School for Planning and Management.
2. London International Business School
It is a British university that focuses solely on online programs along with courses on tourism, finance, entrepreneurship and accounting. One interesting advantage of this university is their curriculum personalizing system. Therefore, this makes the cost of study between 6,700 and 7,700 euros per year depending on the area of specialization.
You can apply to online courses at the London International Business School.
3. The Open University in the United Kingdom:
This university in the UK hosts over 200,000 students and 387 educational programs available for distance learning. With a proven high-level educational qualifications, there is no doubt that this university attracts international students. They also offer flexible certifications as well as high-quality online programs. Moreover, it is ranked as one of the top 50 universities in the UK.
Check here our ranking of the 10 best universities in the UK.
This university offers various specializations like :
Engineering;
Computer sciences;
Law;
Arts;
Economics;
Natural sciences, and others.
The annual cost is between 4000 and 9000 euros.
The link to apply for online learning program at the Open University in the United Kingdom
4. Faculty of Oriental and African Studies
It is a college affiliated to London University. And it is the only UK higher education institution specialized in the study of Asia, Africa, the Near East and the Middle East. This college offers 51 online learning courses. Moreover, the cost of study ranges between 2500 euros in some specializations and up to 23,200 euros in others.
Registration link for the Remote Learning Program at the Faculty of Oriental and African Studies
5. Manchester University
Manchester University is one of UK's most prestigious universities. On the top of that, it is offering outstanding academic standards since its rich heritage dates back to 180 years, also it has an agenda promising for a brighter future.
In addition, the quality, as well as the type of the academic activities, remain unique in the UK. The institution has established a strong collaboration with other fields of industry and public services in the UK. This help them offer more diverse and urgently required specializations in the labor market.
The certificates based on online learning differ from regular or even doctoral certificates. Lastly, they cost between 5,000 and 20,000 euros per year.
Apply for online courses at Manchester University
6. Nottingham Trent University
It is a recognized university in the UK by both The Guardian and The Times magazines due to its academic excellence. Moreover, Nottingham Trent University is one of the most internationally established universities due to its studies as well as its reputation as a great reference.
Additionally, it has various online post-graduate courses in the field of business, international relations and construction. It aspires to fulfill students' dreams in finding work as it focuses on the most required specializations in the job market.
Although the degrees available on site are for master's degree students, the cost of online study varies between 4,500 and 13,000 euros per year. Fees depend on the specialization as well as its degree.
Register for online study programs at Nottingham Trent University here.
All in all, the cost of distance learning at British universities may be prohibitive for some and affordable for others.
In case you are from the first group, do not forget that there are many opportunities for scholarships in UK that are interesting for international students, although they do not include distance learning. But that gives you an opportunity to benefit from one of the best academic studies in the world.