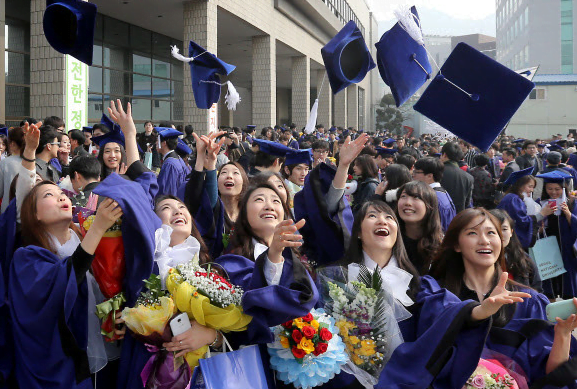 The experiences of other students who preceded you in studying in South Korea may give you the incentive to decide to study abroad when you hesitate.
Moreover, it might give you the push to continue when you actually took the decision. In the following lines you find simple examples from students from different countries and nationalities who have gone through the experience of studying in South Korea, browse it well .
Student Apar Bianu
Apar Bianu student from Nigeria narrates:
How do trees grow? Trees can grow if they have clean water and good care. I was like seeds when I first came to Korea. At the beginning of my decision to study abroad, I considered going to the United States for a scholarship program.
I actually took this step; however, I knew that they only accept 40% of the scholarships. Hence, I decided to drop this dream and study at the local university in my country, Nigeria.
Afterward, I heard about scholarships offered by the Korean government. So the dream of studying abroad came back to me again. This time the opportunity was to either take it or lose my dream forever, and indeed I got it.
From here you can learn about the types of scholarships in South Korea.
On adapting to the student life in Korea
I quickly traveled to Korea and that was in February 2011. Then, I started to adapt to the weather, food and other things which are a bit different from my home country.
At first, I was afraid that I would not know the Korean language. However, I was able to master the Korean language completely within six months! Besides, my major in South Korea is political science.
Moreover, with the help of my colleagues and teachers, I began to adapt to study as well.
Find more information about South Korea's education system and language.
Besides studying, I had time for other activities, such as going out with friends and getting involved in volunteering activities. Moreover, Koreans' respect for religious rites made me able to practice my prayers without any restrictions.
I traveled to South Korea, the farthest country from my home country and from my imagination! In addition, I was able to get through it, get to know people of all races and ethnicities as well as gain life experience.
There is only a year left for my graduation from college. Therefore, I will miss South Korea with all its rituals and memories that I would like to take home with me. One day, I will definitely go back to my home country.
Student Muhammed Masum Billah
Here, student Muhammed Masum Billah from Inha University tells his experience:
Cleanness is a form of faith. I have always believed that everyone should keep the places around them clean and beautiful. I had practical experience of that during my stay at Gumsansa Temple.
This program was prepared by the university. We stayed in the temple one night and two days. During these two days, we were talking to the monk and cleaning the place ourselves. Indeed, I liked their interest in extreme hygiene.
While we were drinking food and tea, the monk taught us how to control our appetite, as we must be careful not to fill the stomach with much food.
In addition to thinking about the poor who do not find food. In fact, you will not feel that the customs and traditions of Korean society are different from ours. On the contrary, they are very similar.
Student Abdullaev Zohid
As for the student Abdullaev Zohid from the National University of Seoul, he says:
Hello! I am Abdullah Zuhaid from Uzbekistan. Indeed, I came to a beautiful country which is located at the center of the Asian continent to study in South Korea.
As a matter of fact, people go through many experiences in life from their inception until their death. Furthermore, there is no doubt that some difficult experiences can make stronger personalities.
One of the most important experiences I had in my life is studying in South Korea. At first, I found some difficulties due to the difference in language, the difference in society, etc., which is normal in all cases.
Indeed, my enrollment at Seoul National University was both a challenging and fun experience! Since I had some difficulties before entering and applying to the university.
We advise you to read the topic of how to apply for admission and registration in the universities of South Korea.
Moreover, through this experience, I managed to make friends with many Korean students in addition to getting to know this wonderful country closely without fear or conflict.
On adapting to the Korean culture
SNU International Students Association (SISA) at Seoul National University had a major role in integrating the different cultures of students from all over the world in South Korea. Besides holding various activities for students such as "World Food Festival", "Learn about Korean culture", "Talent activities" as well as many activities during the studying period.
At last, as I indicated at the beginning, I found it difficult, however over time I realized that new trials give us many experiences and give us the strength to adapt to new things.
Basically, learning and having fun is a summary of my experience here. Indeed, I am grateful to everyone who made me feel happy every day during my study experience in South Korea.