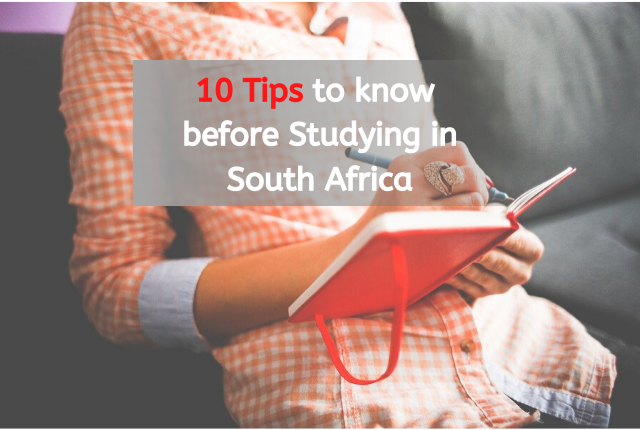 South Africa, which is considered by the international scientific community as the cradle of humanity, is an opportunity for students to explore a country steeped in rich cultural, political and archaeological history. Here we present for international students 10 tips to know before studying in South Africa and embarking on this unique educational adventure.
1. Search and ask before traveling to South Africa
In South Africa, there are places that you should avoid for safety reasons, like all countries. Additionally, prior searching in travel forums will undoubtedly help; it is no substitute for contacting your university program coordinator. Therefore, it is important to consult before preparing to travel
2- Travel early
Most universities send the schedule for application. This may be through the residence hall, (it is common that there are seminars and introductory programs for some majors).
You can arrive there early, empty your luggage, and set up your room. Then get acquainted with your neighbors and the campus before studying.
3. Be careful with taxis in South Africa
Taxis are minibus vehicles as defined in South Africa, usually operated by individuals with typically questionable roadside manners.
Although taking a taxi in South Africa will be a different experience than taxis you are used to, this experience is not for the faint of heart. Also, do not sit in the front unless you are willing to be charged within the duty of collecting everyone's fare (in coins), then dispensing change.
4- Know your university location in South Africa
Get the university map and make a comprehensive visit to your university to decide the duration you will take to get there. There is nothing worse than arriving late on the first day of studying because you did not know it would take 20 minutes on foot.
5- Look for an advisor or private guide
Universities have a variety of support systems. For example, you can get a resident advisor (RA), a general advisor in the first year, advisor at your disposal, and even experienced individuals who are volunteered to work as advisors to students, to provide advises and tricks to adapt to university life. Therefore, they are there to help you. Don't be afraid to ask questions.
6. Find a university mate
In case you do not live with anyone studying the same specialty, set up a friendship with the person sitting next to you in the classroom, ask him if he is interested in sharing notes and meeting once a week to view the course materials.
This is one of the great ways to make friends and a better way to prepare for tests.
7. Adhere or stick to your budget
There is no doubt that you will need to spend extra cash. Whether you have enough money or expect to find a job. You should put this into consideration books, housing accessories, school supplies, fast food, and weekends.
It's frustrating that you can't add some fun to your life while studying because of the money shortage. So create a good expenses plan and stick to it.
8- Take appropriate precautions against diseases in South Africa
In some African countries, Victorian diseases such as cholera or black plague are still there, and in most cases, malaria is the problem.
Generally, the cost of medicines is relatively low. Besides, your program should provide you with connections to a Western doctor in any city where you study, but prevention is more important. Therefore, consult your doctor about anti-malarial medicines before going, and eat freshly cooked food.
9. Acclimatize to time in South Africa
Part and parcel of studying in South Africa are learning how to manage your temper when things don't happen as fast as you want. Also, Public institutions there are not subjected to the same criteria as your country; accept that things will tend to move slower.
Instead of being frustrated with administrative staff, kill them with kindness; this will help your cause tremendously.
10- Knock on your neighbors' doors
Do not be shy and get acquainting with people who may happen to be from your country. Your neighbor may be in a university dormitory, for example. Dormitory life is extraordinary but completely exciting.
These people will be your family there, so get to know them!
Reasons are numerous for international students to choose South Africa for their higher education path. In 2004, there were more than 45,000 new international students in the country, enrolled in the 26 public universities and other institutions.
This proves that the reforms that took place are bearing good fruits, making of South Africa, today's one of the best study destinations worldwide. For your study stay to be as memorable as possible, these 10 tips to follow before studying in South Africa might be very useful. At least that's all I hope for you!
You shall need to know us also:
In case you decide to study in South Africa, you have to know about student living costs and scholarships there.