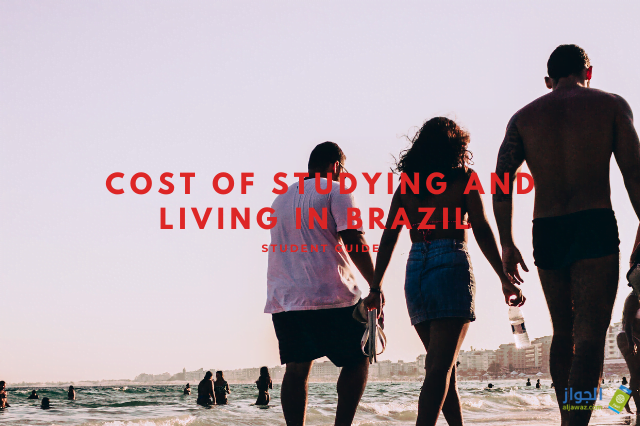 The cost of studying and living in Brazil is still okay in terms of correct living, but if you want to live in luxury the cost of living in Brazil will be more expensive compared to other South American countries.
what is financial aid and how to get it
The total cost of living in Brazil is about 50% less than living in New York City. Even in Rio de Janeiro and São Paulo, which happened to be some of the largest and most expensive cities in the country!
There are many scholarships from Brazilian universities with financial assistance including federal funds which can help fund your studies abroad. The thing is, you'd have to check with your university about how you may benefit from these financial aid once you apply for a scholarship!.
Many programs include accommodation, meals, and insurance. If you are arranging these things yourself, you'd need the below budget tips!
Costs of flights to Brazil
Travel is likely to cost at least $ 1,000 round trip however, you can get the best deals online with flights to Brazil.
Passports, visas, and insurance
You'd need a valid passport and one-year study visa which costs $ 210. While Brazil has free national health insurance, private health care is highly recommended. This is why you should check whether your package includes it or check with your travel agency for a package that includes health, travel, and emergency insurance.
Learn more about the customs and traditions of brazil here!
Using phones
Check if your phone will work with GSM network in Brazil. Electronics is expensive in Brazil, so bring a secondary phone.
Also, the SIM card costs less than $ 20 in Brazil. Check the carrier liked by Brazilians in your area!. Most likely TIM or Vivo.
Travelling and transportation
Rio and São Paulo have great metro systems. Also, buses are the cheapest way to travel between cities. The cost of public transportation tickets across the country is between 45 to 60 dollars a month. A one-way ticket in local transportation is of R$. 2.50 – 3. A monthly public transportation permit is of R$. 100-170
Accommodation and rooms cost monthly
Universities offer accommodations for international students so you have many options, however, it would be a bit difficult to guarantee accommodation before you arrive. Your university office may have some info on finding a place to stay.
You'd find many accommodations programs. The basic advantages you can say most economical, and maybe the best way to delve deeper into Brazilian culture.
If you can't get accommodation before you arrive, you'd have one temporary option, which is to stay at a hostel. A cost of 35 to 100 Brazilian Reals per day. The average rent across the country for a one-bedroom apartment is around $ 500 per month, but in major cities, it could reach $ 1,000. You should expect to pay 60 to 125 dollars for services related.
Rental costs monthly
Rental costs have no price limit however according to the location, size of housing, and amenities, we have made a plan of the costs for you!
living with the owner is of R$.180 to 350 Brazilian riyals
One-bedroom apartment in Rio de Janeiro R$. 600
One-bedroom apartment in the rest of Brazil is R$. 450
3-bedroom apartment in Rio de Janeiro is of R$. 1200
3-bedroom apartment in the rest of Brazil is of R$. 770
Sure! we know you can get room partners!
Note also that you'd need a budget for utilities and taxes as well because most landlords in Brazil think about an additional cost for tenants!
Costs you haven't thought of!
Here's how you can do an okay budget. This menu list rate will have the differences in prices between regions and big cities so take note!
1 Meal in a low-cost restaurant is of R$. 10-20 / R
1 Meal for two people in an average restaurant is of R$. 50-100
1 Cappuccino in a cafe is of R$. 3-5
Fitness and gym memberships are of R$. 80-160
1 Movies ticket is of R$. 15-20 per month.
Now that you have come to know about the cost of studying and living in Brazil, we'd recommend that you take a look at learning Portuguese.