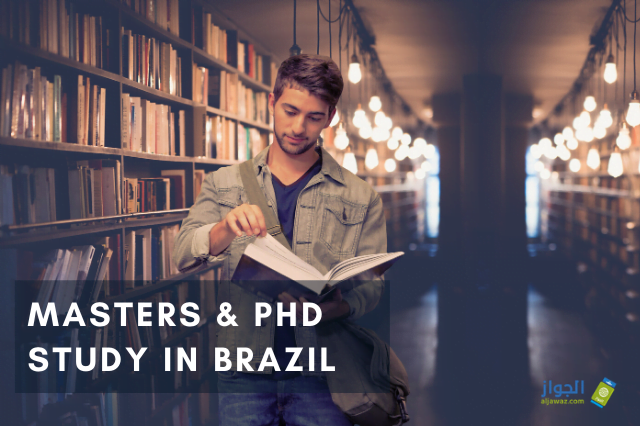 Generally, graduate studies include a Masters and PhD in Brazil. To study for a master's or a doctorate in Brazil, you'd have to obtain admission to a graduate program. Here's our complete coverage on Masters and PhD Study in Brazil in 2020.
Students must first obtain a bachelor's degree or a professional diploma. Postgraduate admission is subject to certain and required criteria, which vary depending on the institution and field of study.
Master's in Brazil for international students
Oftentimes, applicants to Master's program need to take entrance exams. You can check with your university, where you may find other selection processes. Admission exams may include (when required) an interview during which the team assesses the applicant's purpose to join. Applications for the postgraduate program can be found online on the university site.
You may want to send your university an email asking them to send back the forms. It's a great strategy.
Registration dates
The deadlines to apply for graduate studies vary upon the university, but the dates may be relatively early.
Always remember that the school year begins in February, so be sure to remember the deadline to apply to the universities!
Required documents
An application form
Official copies of the diplomas (it may be necessary to get it stamped by a lawyer, local authorities, consulate, or embassy).
University Certificates
Two or three reference letters
A letter from your academic supervisor
A copy of the fee payment receipt (if applicable).
Admission for Masters and PhD in Brazil
To apply for a master's degree in Brazil, you need to have a scientific degree or international equivalent for a Bachelor's degree.
In Brazil, higher education is divided into two distinct types of courses, which you need to be familiar with in order to make the right choice.
The "lato sensu" curriculum that will allow you to obtain an MBA but will not allow you to continue your studies afterward. This course usually lasts 1 or 2 years;
and the "stricto sensu" curriculum, which allows for longer studies. It consists of Master's degrees (1 to 2 years), doctorates (3 to 4 years), with the possibility of doing post-doctoral research.
The language criteria for Masters and PhD Study in Brazil:
Examinations and courses are generally presented in Portuguese. So it is imperative that your proficiency is good in the Portuguese language. Also, to prove your knowledge of Portuguese you'd have to submit a certificate (Celpe-Bras), which is the only recognized Portuguese language test in Brazil.
Even if taught in English, you will need at least some proficiency in Portuguese before starting your studies and your everyday life.
To learn Portuguese in Brazil, universities offer intensive language training courses in and before the courses. Have a look at those courses!
Doctoral studies requirements in Brazil
Application documents
Undergraduate and postgraduate texts, including your degrees and curriculum.
A copy of master's theses, and a letter from your academic supervisor.
Personal Statement: It should include a CV, a brief overview of your education and academic achievements. It must also contain personal details, relevant research experience or professional details, skills, honors, and awards.
Recommendation letter: Two or three letters emphasizing your skills, accomplishments, and argues why you want to enroll.
Application fee receipt: Copy to show you have paid the application fee.
Research proposal
It should include the topic and its importance, how relevant is your research to your chosen major. It should also contain methodologies for research and analysis methodology, background and resources used.
The most important thing is to demonstrate a thoughtful idea and evaluate the contribution to literature and general knowledge.
Your motivational letter
Finally, you should mention your reasons to register in this particular institution, study courses, your research interests and career plans in the future.
Language proficiency
Portuguese: The Portuguese Language Proficiency Certificate for Foreigners (CELPE-Bras) is the only recognized test. In addition, students applying to study in Brazil have to demonstrate their proficiency in Portuguese by taking the (CELPE-Bras).
English: TOEFL with a very good score works as a foreign language test. Also, the International English Language Testing System (IELTS).
Find out how to study Portuguese in Brazil
Tuition fees and PhD scholarships in Brazil for international students
Usually, public universities in Brazil charge no tuition fees to their students, local or international ones. However, private institutions apply a monthly tuition of USD $280 to $470 (BRL 1,540 and BRL 2,575).
Moreover, students will need to pay an application fee, whether they enroll in a private or a public university. Another cost to anticipate is the health insurance fee as well as student services.
In order to cover their living cost, PhD students in Brazil can apply for scholarships to fund their studies and research. Some universities also provide funding for doctoral students, but you can also check for funding from the Brazilian government, consulates as well as other Portuguese-speaking countries. 
You can find more details about these PhD and post-doctoral scholarships, available for international students in Brazil, in our article on the subject.