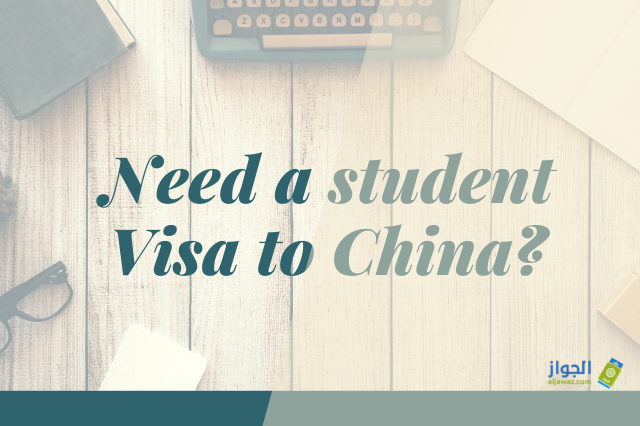 Do you know the process to get a student visa to China?
No one disagrees with the fact that China is one of the most important industrial countries in the world.
This made the country known for its important development in many fields like the education sector. Especially in university education.
The higher education system in China does provide students with a variety of study options for all of its institutions. Perhaps one of the most important steps to study in China is to apply for a student visa. To get a student Visa to China, you'd have to clear all the following steps.
Choose the right university
Confused about where to study in China? No worries!
A question that should have an answer before you start the registration process. China has a huge group of universities and has also some of the best universities around the world.
Also, the very first requirement to get a student visa is to secure an admission in an institution of higher education in China. You will then get official JW202 or JW201 documents from the Ministry of Education in China, which are valuable documents that will prevent the embassies to reject your visa application.
Learn here the best universities in China and also the steps for university admission and application in China
Can I get a student visa for China?
When receiving an acceptance letter from the admission office, this means you are all good to go.
The study visa in China is divided into two types, X1 and X2.
The first type means the study visa in a full university degree, while the second type is for exchange students or who will only study part of a specific study program in China for less than six months.
Moreover, if you want to go study in China for less than 6 months, you should instead apply for a business visa (F-visa).
Where to apply for a study visa?
You can apply for a study visa through the China Visa Application Service Center. The site enables applications for a visa directly.
You can also apply for a study visa through the Chinese embassy office in your country or through the consulate.
Documents required to obtain a study visa in China
A valid passport.
An application form completely filled
One passport photo
Original acceptance letter from the university (JW202 or JW201 documents)
A document showing payment of visa fees
In addition to these documents, there may be other documents that you may have to provide. This is, of course, according to each consulate or embassy.
Other specific documents that you should provide include: 
Official original letter of invitation from sponsor specifying the number of entries you request for your visa
Proof of current state residency, usually a copy of your driver's license, government ID, or a utility bill
Health declaration form you can find in the China Visa Service Center application kit.
Proof of travel arrangements for the duration of your trip with a copy of an itinerary or e-ticket displaying your travel, entry and exit dates for China
Authorization letter, allowing China Visa Service Center to submit and collect your visa application and documents on your behalf.
Finally, when you're done with the above, it will take four working days to process your application.
How long can I stay in China with a student visa?
You can stay in China for the duration of your visa. However, your visa is usually valid for thirty days from the date you enter China. During this period, you'd have to apply for a residence permit. This will replace your study visa.
This process usually takes place in the public security bureau, or most commonly known as the visa office. The residence permit is usually accounted for the same period your entry visa has. You can get another resident permit after the first one, as long as your papers are correct.
Additional information
You have to apply for a study visa in China early, like about a month before the actual date of travel to China. Nonetheless, it's better not to apply too early, like, three months before the travel date.
Generally, all Chinese embassies happen to be accurate and work effectively, so it won't take more than a week or maybe even less.
Language requirements to get a student visa in China
There isn't really any conditions for mastering a specific language in China to get a study visa.
However, since your visa type is a student visa, you should be able to speak certain languages when you come to China as an international student.
English is the most widely spoken language in Chinese universities after Chinese. Generally, you should be able to showcase your English proficiency with some documents like IELTS.
Learn our best tips to succeed your IELTS
Finally, be sure to check out how to study in China in English!