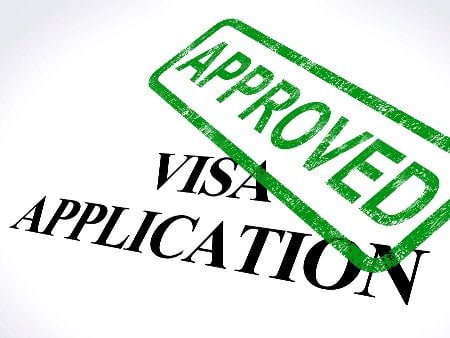 Ireland is an outstanding country to continue your higher education. Indeed, Ireland has multi-institutional and diverse disciplines for students enrolled in one of the courses available at its universities and institutions. The study process at a university in Ireland requires a range of stages. One of them is getting a student visa in Ireland. Keep reading to learn how to proceed.
Check our article about Education System in Ireland
Visa application process
To obtain a study visa, you should apply online through the Irish Immigration Services website, which is available worldwide and must be used by all candidates. 
Your visa application will only be processed if you complete the registration phase via the website. You will need also to submit the necessary documentation for registration, a copy of a passport and registration fees to the office responsible for visas in Ireland.
When completing the online application process, you must follow the instructions in the summary request form created by the online system. The summary form will contain information about where you will submit the necessary documentation for registration.
Moreover, you will need to sign and submit this summary form with the necessary documents.
If you plan to study in Ireland for a short period of not more than three months, you must apply for a "Student Visa C". If you plan to study for longer than three months, then you must apply for a "Student Visa D".
Ireland student visa requirements
You must provide the following documents during the application for a student visa:
You should have the letter of acceptance from a university, colleges or from your educational institution in Ireland confirming that you have been accepted to study in one of its programs. This course should be a full degree course program.
A certificate to prove your proficiency in English, which is the teaching language in various institutions of higher education in Ireland.
You should have proof of the paid registration.
A document proving your financial ability to pay your studies. You will need over 7,000 euros as an initial amount in the first phase of the study.
Evidence that you or your assigned person have at least €7,000 for each subsequent year of your study. In addition to course fees for each of those years.
A document proving that you have health insurance.
An agreement indicating your intention to return to your country of origin after completion of your studies in Ireland.
A copy of your passport.
Two new photos with the same photo's standards required for passports.
Ireland student visa processing time
Processing time before you get a decision about your student visa usually takes 8 weeks. But it can vary depending on the country and the visa office, embassy or consulate where you apply. To find out about the processing time and the status of your application, you have to check out the website of the office which handles it.
Moreover, it can happen that your visa application takes longer. In this case, maybe you have not submitted all necessary supporting documentation. It might also happen if the consulate or embassy need to further verify your supporting documents. People who have some special personal circumstances may also get a longer processing time. Lastly, if your visa is rejected, you have the possibility to appeal within the 2 months following the decision.
Cost of the student visa in Ireland
Processing fees for a visa vary from €25 to a maximum of €100. A single-entry visa will cost a €60 processing fee, while a multiple entry one will cost €100. Moreover, the €25 apply for a transit visa. Besides, keep in mind that registration fees for Irish study visas vary depending on the countries. In some cases, you may also need to pay additional charges, depending on the embassy or consulate handling your application.
Last but not least, some countries are exempt of visa fees. In other words, the fees don't apply to you if you're from Bosnia, Ivory Coast, Ecuador, Indonesia, Jamaica, Kosovo, Kyrgyzstan, Montenegro, Morocco, North Macedonia, Peru, Serbia, Sri Lanka, Tunisia, Uganda, and Zambia.
How long is a student visa valid in Ireland?
The duration of stay, if you get a short stay visa (Visa C), will be a maximum of 90 days. While if a long-term visa (Visa D) have been issued, then you need to apply for a residence permit within the 90 days upon your arrival in Ireland. Usually, your residence permit card will state the expiry date for your residency in Ireland.
Furthermore, you need to renew your residence permit yearly or twice per year for a maximum of 7 to 8 years. The visa extension you can get depends on the level of the study you pursue and according to the National Framework of Qualifications (NFQ).
Simply put, the NFQ Level 8 is when you study for an honor bachelor degree and a higher diploma. In this case, you can extend your residence permit each year for a maximum of 7 years.
Moreover, the level 9 relates to postgraduate diploma and master's degrees. In these cases, you will have to renew your residence permit every 2 years for a maximum of 8 years.
To learn more about the duration of study and types of degree you can get in Ireland, read our article on the Irish higher education system.