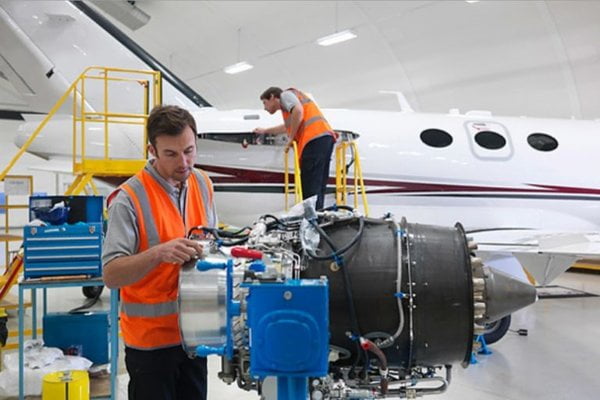 In order to get a study aerospace engineering and aviation in Canada (Bachelors or Masters) you'll need to have a strong understanding of physics and mathematics.
That knowledge will allow you to better understand the mechanism behind how airplanes and spaceships fly.
After completing your studies, you'll have a hand in the design. You will have also a better understanding of alternative fuels and the environmental problems that must be taken into consideration when designing spaceships and airplanes.
Aerospace engineering
Before going to study aerospace engineering in Canada, you must first know what the field entails. As a matter of fact, building and developing airplanes and spaceships is very difficult.
That being said, there are two academic paths you can take in the field: studying aerospace engineering ( working with airplanes, jets, helicopters and occasionally submarines) or studying space engineering (designing rockets and spaceships).
Bachelors in engineering and technology
Aerospace engineering is a sub-field of engineering and technology. You can find relevant courses in robotics ( a branch of technology that deals with building, operating and designing robots), transport engineering, naval engineering, automotive engineering, and mechatronics.
Universities for Bachelors and Masters in aerospace engineering and aviation
Metropolitan State University (MSU Denver)
Metropolitan State in Denver offers one of the best and most advanced aviation programs in the country. Not only is it one of the best programs, but the tuition fees are pretty reasonable as well.
Laval University
Located in Quebec, Laval University has trained and graduated, since its creation, more than 312,000 people through various faculties and disciplines.
The Faculty of Science and Engineering at Laval University is one of the prestigious faculties in the field.
For more information visit this website.
Sherbrooke University
The Université of Sherbrooke offers a Master's degree program in Aerospace Engineering (M.Eng.). This program is done jointly with the following institutions: École Polytechnique de Montréal, École de Technologie supérieure, Laval University, McGill University, and Concordia University.
More information on the Université de Sherbrooke's aerospace program and its admission criteria.
Masters degree in aerospace engineering and aviation
You'll need the following documents when applying for your Masters in aerospace engineering and aviation in Canada:
Bachelors degree.
Filled in application form.
CV
Letter of intent).
Proof of language proficiency ( French or English)
Proof that you can support yourself financially while studying.
Two reference letters stating your ability to study Masters or PhD in Canada (in your chosen field)
To study your Masters in Canada in English, you'll have to provide test scores in one of the following English language exams: IELTS, C1 Advanced, TOEFL, CAEL, CanTEST or MELAB.
Find here our tips to succeed in IELTS.
Aerospace engineering jobs
Graduates from the field of aerospace engineering will have the opportunity of getting many difficult yet interesting jobs such as: maintenance engineer, operations technician, airplane and spaceship development.
Also read our article on studying civil engineering in Canada.