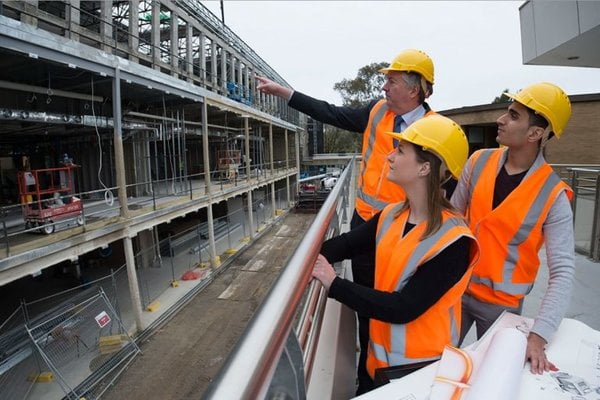 Study civil engineering in Canada and get the skills necessary to qualify for exceptional jobs worldwide. This is a great time to do that as there is a constant demand for civil engineers in the Canadian job market.
We've previously discussed studying Master's and PhD in Canada. This time we're going to shed light on some of the best universities for you to study civil engineering in Canada.
Is Canada a good place for civil engineers?
Canada offers many opportunities for civil engineers, and the demands for graduates are increasing year after year. This is the reason why the subject is popular among local and international students in the country. The best province to look for civil engineering jobs in Canada is Ontario. But whatever province you choose to settle in, Canada is one of the highest paying countries for civil engineering jobs in the world.  
Moreover, universities in Canada pride about their excellence in research. Civil engineering students are then required to partake in numerous research projects during their studies. And most of the engineering schools in Canada are among the top universities in the country and worldwide. 
How many years is the civil engineering study in Canada?
Civil engineering studies in Canada last up to 4 years at bachelor's level and up to 2 years at the master's level. But this varies depending on the institution, as some master's programs can be completed in only 9 to 12 months of study. Moreover, some students may pursue to earn a PhD after their master's in civil engineering. 
As for the tuition fees, the cost depends on the university, but it ranges between CAD 30,000 and CAD 85,000 per year. Of course, you may be eligible for a payment plan, scholarship or another option to fund your studies.
Read also our guide on the study cost and living cost for students in Canada.
The best civil engineering universities in Canada
In Canada, there are more than 70 institutions that offer civil engineering programs. Some of them are among the top Canadian universities such as the University of Toronto, McGill or Western University. General requirements for application to civil engineering courses in Canada include: proficiency in the English language, academic transcripts, letter of recommendation as well as a CV.
UBC Civil Engineering at the University of British Columbia
The Department of Civil engineering of the Faculty of Applied Science of the University of British Columbia is the best engineering school in Canada and in the top 25 worldwide. The department exists since the establishment of the University of British Columbia in 1915. It offers degrees in civil engineering at undergraduate, graduate and postgraduate levels. UBC Civil Engineering also has 20 research labs and centers available for the students, teachers and researchers to use. 
Learn more about the programs, admission requirements, student life and more on the institution's website.
The Schulich School of Engineering  (University of Calgary) for a PhD in civil engineering 
Schulich School of Engineering is ideal for newcomers in the field of engineering as well as those pursuing postgraduate studies. This university takes pride in offering its students an extensive academic experience and granting them the necessary skills to pursue a career in engineering. Moreover, the university offers a research-based PhD program that takes 3 to 4 years to complete, depending on the student's qualifications.
University of Alberta | Master's in engineering 
The University of Alberta is in our list of top 10 universities. It is also one of the top universities in the field of research.
In fact, the university has a research fund of over 490 million dollars. Not only that, but the university also has a special focus on international students, with over 37,000 students from over 143 countries.
It takes 9 to 12 months to complete a Masters program in civil engineering. You'll also need to complete a capstone project as part of the program.
McMaster University | Bachelor's in civil engineering
The university has highly innovative education programs. Studying civil engineering at this university will give you the advantage of studying a wide spectrum of disciplines.
You will also get the chance of specializing in your desired field. Specialties include structural design, transport engineering, water resources, and environmental engineering.
Western University | Masters in engineering, civil engineering, and environmental engineering
The Western University was founded in 1878 and features up to 2400 engineering students (both undergraduate and postgraduate).
The university offers a master's program that gives you the chance to work on projects.
In addition to that, you'll get the sense that you are training for work at the same time. This program will take one or two years to complete.
McGill University
McGill's faculty of civil engineering and applied mechanical engineering was founded in 1871. There are currently 570 students registered in undergraduate and postgraduate engineering programs. Approximately half the students are women and a third are international students from different parts of the world.
This extensive Bachelors's degree program teaches you the fundamentals of mechanics and engineering. This gives you the chance to specialize in your academic subject of interest or expand on your education in the field of civil engineering.
University of Toronto
Finally, the faculty of engineering at the University of Toronto takes first place in Canada. Through Toronto's innovative Bachelor's degree program, you'll learn to solve problems that immediately affect the quality of life everywhere.
You'll learn to rebuild rundown buildings and create buildings that withstand natural disasters. In addition to engineering courses, you'll also be taking relevant subjects like mathematics, physics, and geology.